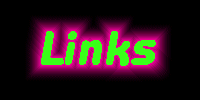 FUN SITES
Fun Fun Fun with lots of Scooby Stuff!
Lots of games, try and find the secret password so you can be special like me!
GREAT Sailor Fan Art!!!
Pretty new and entrepreneurish!
More fun than a 50 pound monkey holding a 50 pound bomb sitting on a tennis net exerting a 2000 pound force on the nets all while sounding something like this: PHEEEEEEEEEeeeeeeeeeeeeeeeewwwwwwwwwwwwwwwwwwwww......Kaboom!!!!!
Creativity with marshmellow bunnies! Yum!
Um, fun with cows.
Frequently Asked Questions About Toast:
Does it really need an explanation?
If you didn't find my poetry page to your satisfaction, then try this place.
HELPFUL SITES
Very helpful if you're trying to build your own page.
Great graphics, and better yet, they're all free!
JavaScripts and stuff, very helpful.
Lots of help!
Great Plugins that can be used with Paint Shop Pro!
It is what it sounds like, and besides that, a great site!